Event Navigation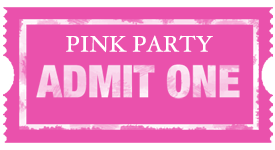 The Cowes Week Pink Party (Cancer Research fundraiser)
17th - 18th August
£20.00
It's the best party to close Cowes Week…and the chance to raise money for a fantastic cause. It's the Pink Party for Cancer Research UK and its happening on Saturday 17th August at the Northwood House Lawn Lounge Bar & Club Balearia! Get you tickets now and get ready to join us for a fantastic evening that includes live music, food and welcome drinks, as well as the chance to party to the early hours with Handsome Dave Rocker who'll be playing an incredible mix of club floor-fillers from the 80's right up to the present day!
The Pink Party was born in 2018, when sisters Louise Hart and Jenny Simmons wanted to celebrate their 40th birthdays with all their friends and family after both successfully beating horrendous cancers over the  proceeding two years  As well as to celebrate this tremendous achievement, their party turned in to a fundraising event for Cancer Research, raising over £2500 from charity donations instead of receiving birthday presents from all their party guests…the Pink Party was created!
In 2019, the Pink Party is back, organised again by Louise & Jenny, but this time as a ticketed fundraising event! Profits from ticket sales are all being donated to Cancer Research UK to fund more pioneering research and treatments to help more people beat cancer in the future. There aren't many family's in the UK now that aren't  effected at some point by the cruel spectre of cancer, so supporting this great cause can only help us move closer to finding long term treatments and eventual cures.
The Pink Party is kindly supported by Roebeck Country Park in Ashey, Ryde:  http://www.roebeckcountrypark.co.uk/
and Just For You Holiday Homes, Isle of Wight: https://justforyouholidayhomes.co.uk/