Event Navigation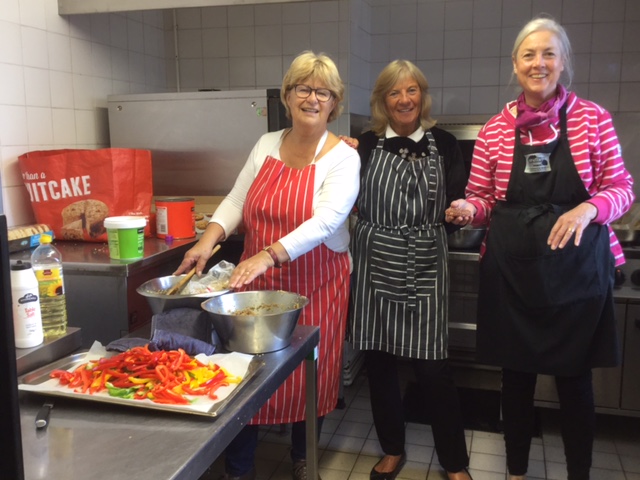 Cancelled – Volunteering Opportunities Coffee Morning
4th April
Following the announcement from the Government on 16th March discouraging unnecessary social gatherings, we have taken the decision to cancel the Volunteer Coffee Morning on Saturday, 4th April 2020.
We  apologise for any disappointment caused, but in these challenging times we have to take responsible action.
Have you got a couple hours spare each week where your help would be much appreciated? Looking to join a sociable group of  like-minded people supporting a popular Cowes charity? Want to be part of a team that makes a real difference? Then volunteering at Northwood House and Park in Cowes could be for you!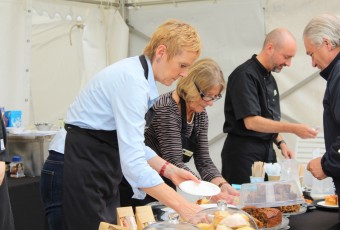 Volunteers help in our tea room
Come and find out more on our  Volunteering Opportunities Coffee Morning on Saturday 4th April about joining our band of amazing volunteers who help to look after Northwood Park and/or with our programme of events through out the year. There are over 60 volunteers who currently give some time to regularly help Northwood House Charitable Trust (the guardians of Northwood House and Park) with ongoing work and fundraising efforts as we strive to restore and  improve this historic Island estate on behalf of Island people. Our friendly coffee morning allows you to come along and find out what we do and how you could possibly help us. Then, if you are interested after that you can come back and join in the fun!
We have several areas  where volunteers play a vital role in our charity:
Gardening and helping to maintain Northwood Park outside in the fresh air.
Assisting our volunteer  catering team  at public events by helping in our tea room or making cakes etc.
Helping with raffles and fundraising at events.
Assisting our event team with setting up and stewarding at events and in our event car parks.
Helping with some admin chores in the estate office.
Absolutely no experience is necessary, but bags of enthusiasm is a certain bonus if you do want to get involved, with all ages very much welcome. Our coffee morning is the perfect way for  you to find out more details in what our opportunities are.
Not only that, but you could be joining an organisation nationally recognised for the quality and commitment of its volunteers. Our volunteer team received the Queen's Award for Voluntary Service in 2018, the highest accolade that can be awarded in the voluntary sector!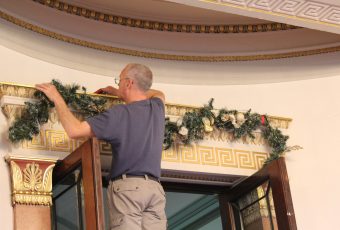 Volunteers dressing the House for Christmas
So if you have some time to offer (even a very small amount) , please pop along to find out more…and don't worry, if you find out its not for you, we will just have been more than happy to meet you and share a coffee and biscuit, as we love meeting new people!
The Volunteering Coffee Morning takes place in our Stables Community Hall between 10am and 12pm on the day, which is located just behind Northwood House.  Parking for the morning is free in our Rotunda car park for all those that come along.
Please call our admin office on 01983 293642 for more details and directions if required.